Most services that CAEDM offers can be accessed remotely from on- or off-campus computers.
Applications

Depending on the application, you will use one of the following methods to access CAEDM's software:
ZCentral Remote Boost
HP ZCentral Remote Boost (formerly known as HP RGS/Remote Graphics Software )
ZCentral Remote workstations support graphics-intensive applications such as CAD or 3D modeling. RGS clients are available for Windows and Linux, and access is available both on and off campus. RGS workstations do not include less graphic intensive software such as Microsoft Office; use Citrix to access such software.
For detailed instructions on how to set up ZCentral on a personal computer, click here.
Citrix
Citrix allows a laptop, tablet, or even phone to remotely run most software available in the CAEDM labs through a web interface. Citrix is used for programs that don't require 3D graphics, such as Microsoft Office or MATLAB.
For detailed instructions on how to set up Citrix on a personal computer, tablet, or phone, click here.
SSH
SSH provides a remote command shell to a Linux workstation. It can be used to modify files, run command line applications, and even run limited graphical applications.
For detailed instructions on how to set up SSH on a personal computer, click here.
LabConnect
LabConnect was created in answer to the increased demand for remote computing in response to classes being taught online (Mar 2020-Aug 2021) due to the COVID-19 virus. Now that classes are being held on-campus once again, LabConnect is available but with fewer computing resources. LabConnect allows users to directly connect to college and department lab machines remotely from off campus. Check with your individual department to find out which labs are available via LabConnect.
J Drive Access
The J Drive is a convenient place to store files. It provides a generous amount of space, and it's backed up every night. It is available without any setup from the labs, on RGS workstations, and inside Citrix applications. You can also map the J Drive, making it accessible on-campus just like the C drive, or use SCP to simply transfer files to and from the J Drive.
Printing
Printing to any CAEDM printer from a personal Windows or Linux computer is easy using the CAEDM Print Driver. The driver enables printing to all CAEDM printers from anywhere on campus.
Software and hardware requirements
Using CAEDM services remotely requires client software, on compatible hardware. All CAEDM client software is easy to install on Windows, and is easy to use. Accessing the J Drive from off campus on all platforms will require using SCP or mapping a drive through the VPN. On-campus access is readily available on any computer by mapping the J drive directly. There is Citrix client software available for Linux and Macintosh, but installation may be more difficult, and the client software is not as polished.
Involvement installing and using client software
Services
RGS
LabConnect
Citrix
SSH
J:Drive
Printing
Windows
Easy
Easy
Easy
Easy
Easy (On-campus)
Easy
Linux
Medium
Easy
Medium
Easy*
Easy (On-campus)
Easy
OS X
Medium
Medium
Medium
Easy*
Easy (On-campus)
Use Web Print
*The necessary software is probably already on your computer.
Network requirements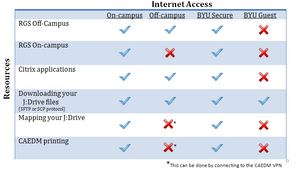 The university provides wireless internet in most buildings on campus. BYU Guest Wireless severely limits functionality and will not work with most CAEDM services. All CAEDM services function properly over Eduroam. The laptop stations in the CAEDM labs have a wired connection to the campus network that support all CAEDM services.
Free software
CAEDM also provides free access to download Microsoft software to your own computer. The Microsoft Developer Network Academic Alliance or MSDNAA allow students, faculty, and staff of the College with CAEDM accounts to download software programs for academic related non-commercial purposes. MSDNAA provides Windows operating systems, compilers, server software and much more. There is software compatible with Windows, Linux and Macintosh operating systems.