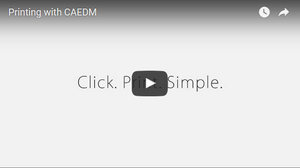 CAEDM provides both color and black and white printing. For large CAD drawings and posters see Plotting.
Print Costs and Charging
Cost
When printing in CAEDM a print job is charged per page, not per sheet. This means if a student prints double-sided they will still be charged the same as printing single-sided.
Cougar Cash
Printing for individual users is charged directly to their BYU Cougar Cash Card. The CAEDM print driver will estimate the cost of a print job before committing to payment. Charging for plotting is separate.
CAEDM Money (Print balance)
Every user has a "CAEDM Money" balance. If the Cougar Cash Card Servers cannot be contacted when a print job is released, CAEDM will allow the print job to continue, recording the charge to the user's individual print balance. This could result in a temporary negative print balance. CAEDM will charge the outstanding balance to Cougar Cash Card when the servers become available. If there is an error in print charging caused by a paper jam or other error, CAEDM employees are not authorized to place funds back on a Cougar Cash Card. The refunded amount will be credited to the CAEDM Money account for future printing.
Checking Cougar Cash Card, CAEDM Print Balance, and Group Printing Balances
From the CAEDM website, select "Check Print Balance" from the "Printing" menu.
Cougar Cash balance, personal CAEDM print credit, and group print account balances will be shown.
Printers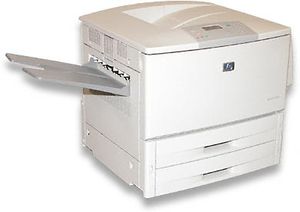 Most computer labs in the college have one or more printers available. Usually the name of the printer will be on or near the printer. Most department printers are limited to black and white on 8.5 x 11" paper, but resources vary. Color printing, large paper sizes, and plotting are available in the CAEDM labs as seen in the table below.
| Location | B/W Printing | Color Printing | Plotting |
| --- | --- | --- | --- |
| 425 Clyde Building | 8.5 x 11, 11 x 17 | 8.5 x 11, 11 x 17 | 42W Glossy Poster |
| 450 Crabtree Building | 8.5 x 11, 11 x 17 | 8.5 x 11, 11 x 17 | N/A |
| 102 Engineering Building | 8.5 x 11, 11 x 17 | 8.5 x 11, 11 x 17 | N/A |
| 207 Engineering Building | 8.5 x 11, 11 x 17 | 8.5 x 11, 11 x 17 | N/A |
Non-standard paper
CAEDM stocks standard 92 Bright, 20 lb office paper in both 8.5 x 11 and 11 x 17. Other types of paper will need to be approved in person by a CAEDM employee. Damage to a printer caused by unapproved paper will be paid for by the responsible party.
DO NOT print transparencies. They can destroy our fusers!
Printing from your own computer
Windows
To print from any Windows computer, install and use the CAEDM Print Driver.
Linux
The CAEDM Print Driver will install on any Debian (Ubuntu) or Red-Hat (Fedora) based system.
Webprint
Webprint allows any device with a web browser to send a pdf to any CAEDM print queue. Try it now! Webprint.et.byu.edu
Other Printing Resources
Plotting
Plotting requires special care and instructions.
Creating PDF files
There are many options for creating PDF files at the CAEDM labs. If the application you are using does not support export/save to PDF, your options include:
Acrobat Pro Machines: There are scanner machines located in some of the CAEDM labs. These machines have Adobe Acrobat Pro installed on them. This application supports the creation and editing of PDF files.
Distil Queue: The distil queue is a printer accessible with the CAEDM print driver. If you can run the driver, you can see this "printer". To make a PDF out of your document, simply print as you normally would any document, and choose the CAEDM print driver as the printer. Then, from the list of printers in the driver, select 'Distil'. After a short time, a PDF will be sent to your e-mail.
PDF Creator: The windows machines in the labs come equiped with an application called 'PDF Creator'. Use this to create PDFs out of most documents.
Group Printing
CAEDM groups may chose to pay for printing from a common pool of money once that option has been enabled.