The CAEDM Print Driver, or "CAEDM Printer" allows printing to all CAEDM printers and some department printers with a one-click installation on Microsoft Windows. This print driver will appear as the only printer available on most CAEDM Windows computers. For personal computers, it is not necessary to install a device driver or printer object for each physical printer. One easy-to-install and use printer device covers all printing.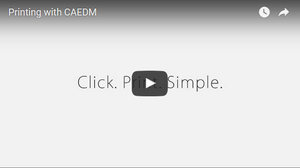 Installing the CAEDM Print Driver
There are two versions of the CAEDM Print Driver; one for Linux and Mac systems, and one for Windows systems. Currently the Windows CAEDM Print Driver is compatible with Windows XP, Windows Vista, and Windows 7, both 32 bit and 64 bit versions.
Download for: Windows.

Intallation: The installation is a download, next, next finish installation. For complete instructions, see the installation and use video. Once installed, there is a short delay the first time the CAEDM Print Driver is used to print.

Download for: Linux.

Installation: run this command:

tar -xvf caedmprint-latest.tar.gz; cd caedmprint-*; sudo ./install.sh

The CAEDM Print Driver has been tested on Ubuntu 14.04 and Red Hat 7. If you encounter errors, see the troublshooting section in the README file included in caedmprint-latest.tar.gz. For further assistance, contact CAEDM support in 450 CTB.
Download for: Mac OS X 10.6 +.

Installation: double-click the image file after it downloads. In it, you will find an app titled 'Install CAEDM Printing.'
Your machine will have to accept outside applications.

To enable this, go to System Preferences -> Security & Privacy. Then allow apps downloaded from "Anywhere."

Follow the installation steps, then restart your machine.
If you encounter any issues, contact CAEDM support in 450 CTB.
Using the CAEDM Print Driver
Make sure you are connected through an on-campus wired connection or secure wireless.
Once the CAEDM Print Driver is installed, print to the CAEDM Printer as you would any other printer.
A CAEDM username and password is required to print to the CAEDM print driver. Since CAEDM provides access to all it's printers from virtually anywhere it is possible to print to an entirely different building! Make sure the printer you select is the printer you want! Printers are named by building, room number, and type of printer. For example cb423psc is in the Clyde Bldg, Room 423, and is a Color Postscript Printer.
Troubleshooting the CAEDM Print Driver
"Could not get a list of printers."
The CAEDM print driver does NOT work over BYU Guest Wireless. Please use a wired connection, or BYU Secure Wireless while on campus. The CAEDM print driver is not available off-campus