LabConnect allows CAEDM users to remotely access desktop computers in various college and department labs from their Windows computer from off campus. Some of these desktop computers are just standard lab machines, others may have special department software or hardware attached to them. LabConnect uses the Microsoft RDP client in conjunction with special broker software to connect users with an available machine with the needed resources.
How does LabConnect differ from RGS or Citrix?
RGS is specifically designed to handle graphics intensive applications like CAD. The user experience typically gives the remote user a desktop on a high-end workstation. The software installed on RGS is limited to applications that require or use intensive graphics. There are a limited number of RGS servers available. RGS has clients for Windows and Linux. LabConnect and RGSConnect use a very similar client to connect to remote servers. The user experience is very similar, except RGS is higher performance for graphical intensive applications.
Citrix typically connects directly to an application and displays just the application necessary, for instance Microsoft Word, and does not show a complete remote desktop. There are clients for just about every operating system and device. Applications on Citrix are typically limited to non-graphic intensive software.
LabConnect was rolled out Winter Semester of 2020 to meet the increased demand for remote computing due to all classes being taught online starting in March of 2020. The user experience of LabConnect is very similar to RGS, except graphic-intensive applications may jitter or drop frames occasionally. LabConnect may be the only way to access some department software, and may still be available when RGS is completely full. Currently, LabConnect is only available for Windows-based client computers.
Download and install the client software
Clients are available on the CAEDM Downloads page.
Using LabConnect for Windows
Use the LabConnect for Windows Client to access LabConnect from a Windows computer.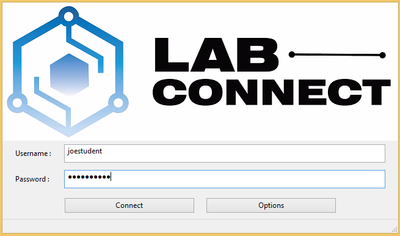 Using LabConnect for Mac
Use the LabConnect command line utility for Mac to access LabConnect from a Mac,
Using LabConnect for Linux
There is also a LabConnect command line utility for Linux. It is functionally identical to the Mac command line client.